TREADING THEIR WAY ACROSS AMERICA: THE TREADWAYS DO NOLA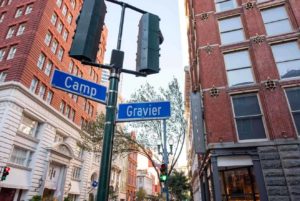 Here's a brief intro for those who are newly following the Treadway road trip chronicles: For Sarah Treadway (President & Co-CEO of Magnolia Hotels), re-planning her family's summer vacation a few months back was a no brainer. As the COVID-19 pandemic's damaging effects on the hospitality industry became increasingly clear and the company furloughed hundreds of valuable team members, Sarah felt a deep desire to connect with & support the remaining few team members on property who are keeping our hotels safely open for business. Sarah & her husband, Shea, quickly hatched a major road trip plan: pack up their four children, their South African au pair, and enough supplies in a 32' trailer for an eight-week trek across America to visit each of the six Magnolia Hotels!
The Treadway family had five great days in New Orleans. They only experienced heavy rain one day and spent the time driving throughout the Garden District and the French Quarter (an easy walk when it's not pouring!)  The city is starting to open and they were able to visit two of their favorite restaurants: Mother's, which is famous for Po'boys & Baked Ham, & Luke. At Mother's, the kids had grilled cheese and the staff was super friendly to their chaos. Luke, even with the COVID-19 restrictions, did not disappoint. This spot has charmingly funny waiters, perfect martinis, and Sarah tried the soft-shelled crab for the first time (she says it won't be her last! Keep it up, Luke!) Check both restaurants out next time you're in the city.
Magnolia's restaurant, Laurel Oak, remains closed for now. Everyone is anxiously awaiting the return of more business travel to the CBD. When that happens, the Laurel Oak team can get back to welcoming you in to dine and socialize with them!
The Treadway kids went to the zoo, of course. This visit was extra special because the crew was joined by a longtime Magnolia employee, Rebecca Tabb, and her son, Liam. The New Orleans Audubon Zoo is a treat. Not only is it filled with many different animals…it also has a playground and children's water park!
For Sarah, the highlight of the New Orleans leg of the road trip was having three dinners and one lunch with the hotel's amazing staff of six people, who continue to run the hotel and welcome guests with grace and a smile. Cynthia, Jamise, Molly, Peter, Lawdell and Dave – Sarah appreciates each of you and really values conversations with you.